AgriExplorer Modules
AgriExplorer Weather
AgriExplorer Weather links to a weather station of any brand. It allows to know under what actual weather conditions (wind speed, temperature and moisture) machines are working. This system uses an exclusive methodology to evaluate weather condition under international standards. Spray droplet evaporation speed is estimated using NASA algorithms.
AgriExplorer Weather is ideal to control and evaluate aerial and ground sprayers as its maximize results and avoid negative impacts on the environment.
AgriExplorer Weather includes a device which indicates in the machine cab the actual weather condition: Green lights for optimum weather condition, yellow lights for under-optimum weather conditions and red light for non acceptable conditions.

AgriExplorer Weather generates exhaustive reports of the weather condition during application field by field so clients may evaluate and control labors with objective information.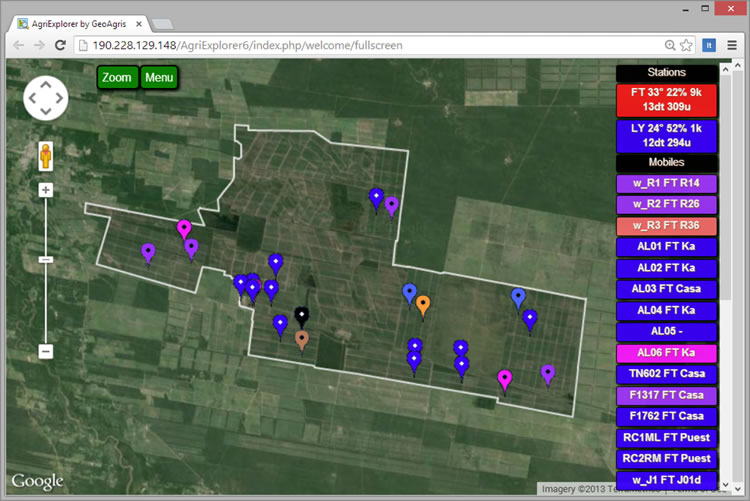 Objectives & Uses Summary:
All company's weather stations information in one system
Any Ground and Aerial Sprayers linked to weather conditions
Weather Condition real-time control and certification during applications
To know under what weather conditions applications were made in any part of the field
Non-acceptable-weather-condition application Alarms
Quantify hectares under non-acceptable-weather-condition application
Register of every labor done within field or farm and their weather condition to future queries
Reports (day by day, field by field and machine by machine)
Total hectares applied within the field
Start and End hours
High-Speed applied hectares
Non acceptable temperature condition applied hectares
Non acceptable moisture condition applied hectares
Non acceptable thermal inversion condition applied hectares
High evaporation sprayer droplet condition applied hectares
Non acceptable weather condition applied hectares
Weather parameters (maximum, minimum and average) during applications